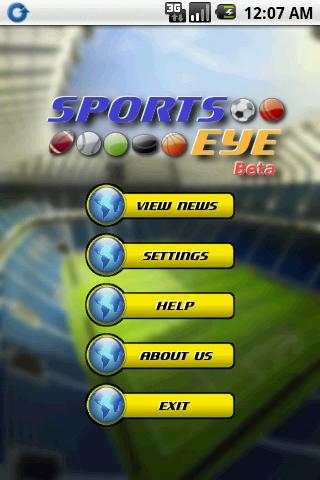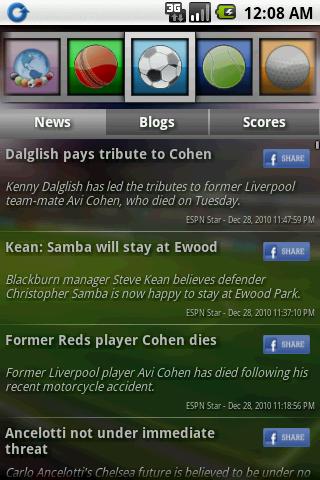 Sports Eye is a one stop solution for all your sports needs. From sports news to live scores, from players to expert blogs, Sports Eye contains all that you need to satisfy your passion for Sports.
*Full versions with Players and Widget available now*
*Report issues to info@excelarz.com*
*FEATURES*
•Custom Sports Selection: Select one or more sports of your choice from Basketball NBA, Baseball MLB, Cricket, Soccer, Hockey NHL, Football NFL, Tennis, Golf, Motor Sports and Olympics
•Configurable News Sources: Why look for reliable news sources when we are doing it for you? Now select from various available sources that bring authentic and up-to-date information on your fingertips
•Customizable News Alerts Notification: Want to know the news as it arrives? Simply enable the notifications in background sync and get the alerts on your device
•Facebook Sharing: Let people know about the story by simply selecting and posting in on Facebook through easy-to-use interface
•Configurable Background Sync: Be up to date through the background sync component. Configure how often you need updates from your news sources
•Offline Viewing: View stories on-the-go even if you have lost the internet connectivity. Sports Eye keeps stories in its storage to let you use the application in offline mode
•News Source: BBC, CNN, ESPN, Golf, FIFA, Cricinfo, ICC
•SD card installation supported (Froyo and Gingerbread): No more space on your phone? Now you can move the application to the SD card to free space on your internal storage
•Intuitive Switching Interface: Switch through news, blogs and scores by simple tab and menu controls.
•Personalized background themes for each sport
•Slick UI
•And much more….
In short, Sports Eye is a must have for all the sport junkies.
Keywords: Sport, Sports, Games, Players, Sport News, Sports News, News, Blogs, Sports Blogs, Live Scores, Top News, Cricket, Football, Soccer, Tennis, ATP, WTA, Golf, Basketball, NBA,NCAAB, NCAAW, WNBA, Baseball, MLB, Ice Hockey, NHL, Motor Sports, NASCAR, F1, IRL, Olympics, Rugby, American Football, NFL, facebook, Moto GP, Motorsports, Formula 1, BBC, CNN, ESPN, FIFA, Olympics 2012, Cricket World Cup, Rugby Union, Rugby League, ICC, Cricinfo, Australian Open, US Open, Wimbledon, French Open, Roland Garros, Feeds, Premier League, Vancouver 2012, Spanish League, UEFA Championship league, Euro 2010, La liga
App Specification
App Name:

Sports Eye Lite

Rating:

3.95

Apk:

excelarz.apps.sportsEye

Cost:

Free

Developer:

Http://www.excelarz.com/

Market:

market://search?q=pname:excelarz.apps.sportsEye