University of Phoenix Android app now available
Going to class online is gaining in popularity, and many people rely on online schools like the University of Phoenix for their education. The University of Phoenix realizes many of us use smartphones daily, and they wanted to make things easier for their students, so they have developed an application that is now available on Android. Setting time aside to attend your class is one thing, but trying to keep up with class discussions, grade postsings and all the other jazz that goes with it is where it gets tricky, but this is where the app comes into play with features like: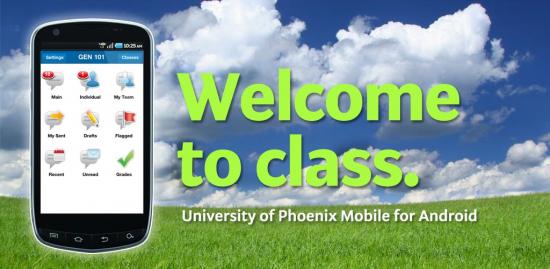 Participate in online classroom discussion forums
Draft and post to discussion threads, and reply to your classmates' posts
View, edit and save drafts of your discussion posts
View message flags, discussion questions and class announcements
Receive real-time alerts when grades are posted
Receive real-time alerts when your instructor posts new threads or responds to your messages
If you are currently attending University of Phoenix, or know someone who is, hit the break for download links to get this free application on your Android device today!