WallMe Lite Live Wallpaper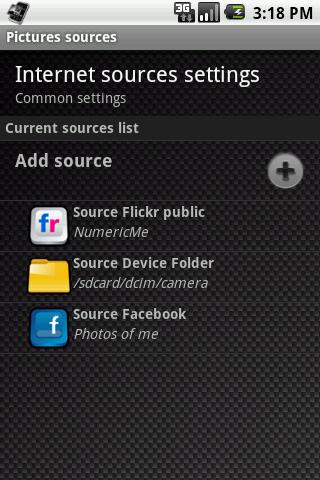 Slide show live wallpaper: The best one on android!
Play pictures on the background from:
● Device folder (from internal memory or SD card)
● Facebook photos (your own images or pictures of your friends)
● Flickr public photostream
Transform your android desktop into a digital photoframe! You can also use this live wallpaper as a screensaver…
–Lite Edition :
● Ad-supported
● Some features are not available.
You can unlock all features and hide ads by purchasing "WallMe Full" edition.
Note:
Live wallpapers do not work on following devices:
● HTC(Hero, Legend, Wildfire, Liberty, Magic, Eris, Aria, Bee, Sapphire),
● Samsung(Moment, Spica, Teos, Acclaim, Intercept, Apollo, Captivate, Gem, Transform),
● T-Mobile(MyTouch 3G Slide, Garminfone),
● Motorola(Backflip, WX445, Cliq),
● LG(GW620, LU2300),
● Other devices: ZTE Racer, Garmin-Asus A50, Apad / Epad tablet, Kyocera Zio, Alcatel OT-980, i-mobile i858, Orange San Francisco, SKY Vega…
Recent changes:
Feature(s):
● New notifications design
● New popups design
● Optimized application size
Bug(s) fix:
● Minor errors
● Slideshow launched on boot
App Specification
App Name:

WallMe Lite Live Wallpaper

Rating:

4.03

Apk:

com.numericme.wallme

Cost:

Free

Developer:

http://www.numericme.com/#2

Market:

market://search?q=pname:com.numericme.wallme