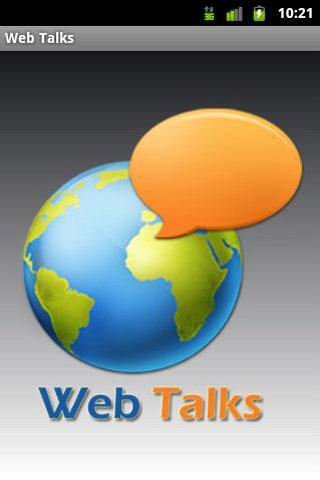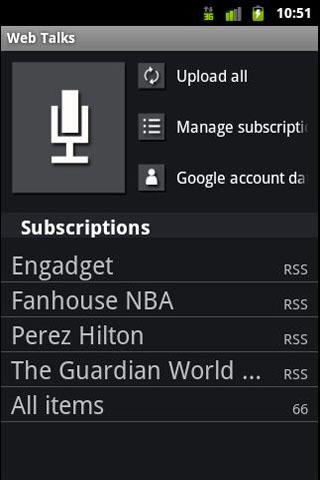 Now we see the TV, we listen to the radio, we read the newspaper and we read the web, but from now this will change… listen to your favorite websites on your mobile
WebTalks is an application that allows us to listen our favorite sites, as if it were a radio.
Their usage mode is as simple as opening the application, dictate the title of the web to listen (eg "Play NBA.com"), or selecting it from our list of favorite websites, and the application will begin to dictate the latest posts published in this web.
How many times have you desired, for example, hear "New York Times" while driving, or listen on your headphones "NBA.com" way at the University, or just listen to your Google Reader's subscriptions while travelling by metro or by bus?
WebTalks uses advanced technology that enables synchronization with "Google Reader". Thus, you can listen to your Google Reader subscriptions, and will be marking as read the posts that you are listening. The application also implements offline mode so that the webs are loaded when there is mobile coverage, and you can enjoy them even when travelling by Metro.
The application can be used with the headset button for your convenience:
– Single click: Pause/Play
– Double click: Next post
In addition, we have been very aware of people with vision problems, which find it hard to use his smartphone due to size limitations screen.
To do this, WebTalks implements voice recognition technology to launch the web you want to listen, and also implements voice synthesis technology to listen to the news contained in that website.
Benefits of the FULL version:
– The app is multi language. Before dictating an entry detects the language and does so in the appropriate language.
– Ad-free version, with more space for reading
– In addition to portrait orientation, you can enjoy landscape orientation, useful for Tablets
Installing this application you agree to our terms and conditions described in http://www.webtalks.es/en/eula.html
App Specification
App Name:

Web Talks Lite

Rating:

3.82

Apk:

es.jmot.lwhfree

Cost:

Free

Developer:

http://www.webtalks.es

Market:

market://search?q=pname:es.jmot.lwhfree