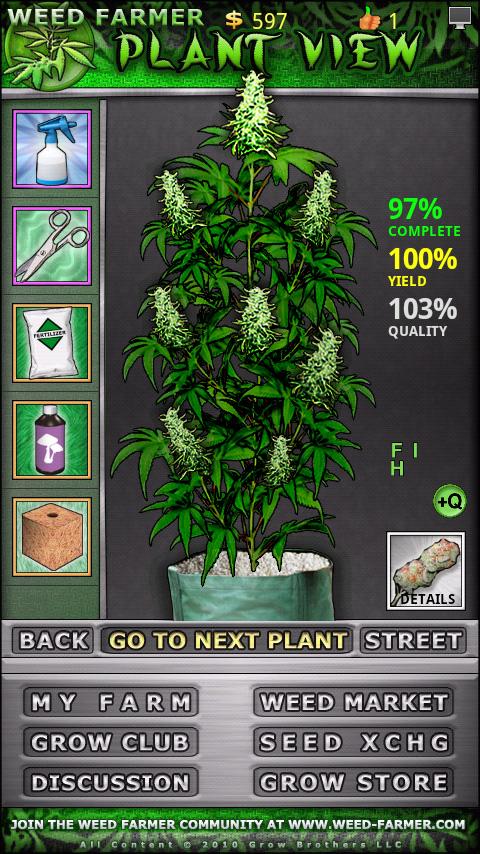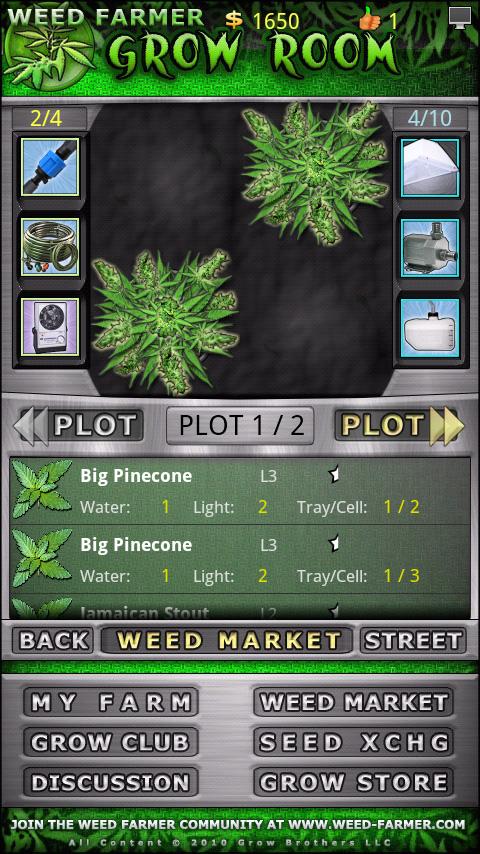 Grow Your Own Marijuana Plants by Playing the Online Video Game of Weed Farmer.
Get ready to accept the challenges and reap the rewards as you increase your growing skills and bank account by farming 30 different strains of cannabis plants. Manage each stage of a plants growth and production, from seed germination to the final harvest, you control it all. Upgrade your grow location from a small starting closet to a final massive warehouse. Choose from a large number of supplies and equipment to install for creating multiple specialized growing rooms.
Learn More: http://www.WeedFarmer.com
PUBLIC BETA SIGNUP STARTS 02/14/2011
Please Note: Weed Farmer is a fully online multiplayer game now in the beta stage. During this stage of the game we are looking to squash bugs by stress testing the app and game servers. We will be accepting a limited number of early players. If you are interested in playing the game at this time, before purchasing this app please be aware and of the understanding that as Weed Farmer is in beta, gameplay issues and bugs will be encountered. Also frequent updates every one to two days of the client app are published. Players will need to download and use the most recently published version. As a thank you to players who join during beta they will receive special growing equipment and other unique rewards.
MUCH MORE THAN A VIRTUAL PLANT APP
* 30 unique types of weed to grow, harvest, sell and collect.
* Fully Online with dedicated servers storing each action you perform resulting in no loss of game data.
* Fight off attacks by bugs and fungus while avoiding dehydration and nutrient deficiency.
* Specialized grow areas allow for direct plant interaction during each stage of a plants growing cycle.
* Manage all aspects of growing such as lighting, ventilation, growing mediums, water supply, hydro pumps and many more.
* Buff up your plants by adding fertilizer, regular watering and transplanting to different growing mediums.
* Chat live in game with other growers to share tips and brag about your latest harvests.
* Increase your growing skill to increase profits by learning to growing more difficult types of weed.
* Leader boards show wealthiest growers, most skilled growers, highest yielding harvests and more.
LEARN MORE ABOUT THE GAME WITH THESE DETAILED GROWING GUIDES
Growing Guide: Your First Grow
http://www.weedfarmer.com/guide_your_first_grow.html
Growing Guide: Where To Go, Where to Grow
http://www.weedfarmer.com/guide_locations.html
Growing Guide: What Does This Do?
http://www.weedfarmer.com/guide_what_does_this_do.html
Growing Guide: Tips & Tricks
http://www.weedfarmer.com/guide_tips_and_tricks.html
ABOUT THE DEVELOPERS
Grow Brothers http://www.growbrothers.com the creators of Weed Farmer are dedicated to providing a high quality online gaming experience. The company considers customer support a priority with help requests being answered in usually under 24 hours. Additionally supporting web sites for Weed Farmer have been created and made available including a community forum http://wwww.weedfarmerforum.com and wiki http://wiki.weedfarmerforum.com Also the main web site http://www.weedfarmer.com provides detailed guides and tutorials for new players at http://www.weedfarmer.com/guides.html
Learn More about Weed Farmer at http://www.WeedFarmer.com
search keywords:
weed farmer farm farming medicinal medical dr doctor reefer pot of potleaf drugs drug marijuana growing indoors game games grow cannabis bowl weeden bong blunt bowls bongs blunts smoke smoking smoker hemp sim simulator videogame video green 420 green thumb greenthumb garden planting plants bud buds chronic dope grass maryjane mary jane thc skunk hash chiba dagga nugs nuggets nugget greens grower growroom grow room virtual digital legalize legalization 4:20 operation labs
App Specification
App Name:

Weed Farmer

Rating:

3.67

Apk:

com.code4mobile.android.weedfarmer

Cost:

US$4.95

Developer:

http://www.grow-brothers.com

Market:

market://search?q=pname:com.code4mobile.android.weedfarmer