App Specification
App Name:

Worder

Rating:

3.75

Apk:

com.peterdamen.android.worder

Cost:

US$2.19

Developer:

http://peterdamen.com/mobile

Market:

market://search?q=pname:com.peterdamen.android.worder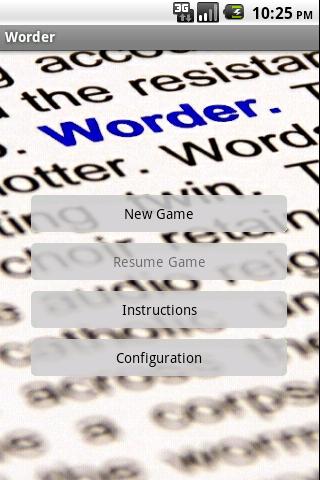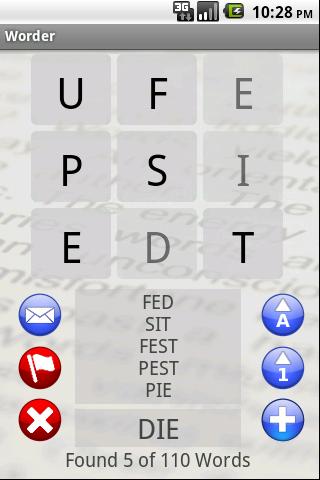 Worder for Android is a challenging word game which tests your ability to search for words within a set of nine letters.
The object of the game is to make as many words as possible.. and find the one word using all nine letters too.
Worder has no timers, explosions or music, just sit down for a relaxing game of Worder.. playing at your own pace.
Worder includes many game options, including a Shared Letter mode where all words should include the highlighted letter, or standard mode that allows you to use all letters.
The minimum word length for a game can also be selected, which can limit the number of words that need to be found.
Worder also includes 6 difficulty levels, so that Worder can cater for those who are intimidated by games with large word sets, to those people who are word game experts. Level 6 includes all words, where lower levels include a subset of the entire word list, based on how commonly words are used in everyday language/text.
You can challenge your friends by sending your current game for them to play. See if they can beat your score.
Available in the Android Market and Apples Appstore now.
If your looking for a good word game thats simple to use with no frills then buy this. I love the simplicity of it and main reason for my purchase. Sometimes I want to play a quiet word game without all the glitz and noise and this one I can play peacefuly. I havent any problems using it and find the words ok but you will find word variations in any word game. Tried the free version first before I decided. I recommend this to all. Nice game Peter!
Its on my first page. Its my favorite go to app. Never gets old
This game is so fun I could play it all day
Thank you for the update, the game is now excellent. I dont know how you managed to control the difficulty level of word choices, but youve done it! We are on level 5 (out of 6) and the words are challenging but theres not a single obscure word (many games, including the two I mention next, have problems with words no one has ever heard or seen). My wife and I play this often, its now our favorite word game, alongside of Wurdle (boggle) and Lexitron (anagrams).
Simple and so enjoyable! Welldesigned. Im very happy I found this.
Previous Post: Flying Chicks
Next Post: Tekken Slide Puzzle