App Specification
App Name:

Zen Timer Meditation Timer

Rating:

4.74

Apk:

com.spotlightsix.zentimer

Cost:

US$1.99

Developer:

http://www.spotlightsix.com/android_zen_timer

Market:

market://search?q=pname:com.spotlightsix.zentimer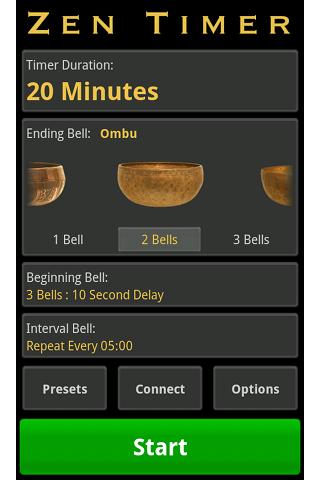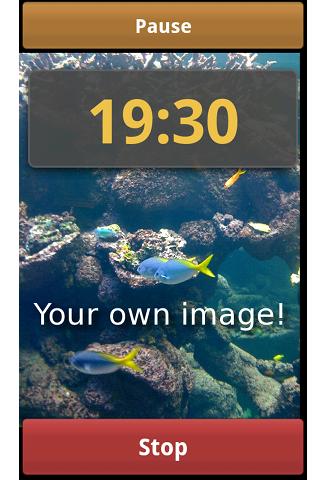 Perfect for mindful activities such as meditation and yoga, this simple yet powerful timer plays the beautiful sounds of the Tibetan singing bowl.
- Youll love our bells! Recorded with high quality digital audio equipment at a famous meditation center, these new bell samples are amazing. Crystal clear with extra long fade outs. They sound great with the built-in speaker, but to get the full effect, try using headphones or external speakers.
- Choose from six different bells of varying size and metal compositions – from bright and clean to deep and complex with lovely overtones. A wood block sound is also included.
- Each bell can be set to ring once, twice or three times. The delay between strikes is configurable from 2/10 of a second to 20 seconds.
- Optionally add a beginning bell which will play when the timer is started. Choose the type of bell, the delay before the bell rings, the number of strikes and the relative volume of this bell.
- Add an unlimited number of interval bells which are set to play at specified times – either at a repeating time interval or at a fixed offset from the beginning or end. Again with each bell, you can set the type of bell, the number of strikes and the relative volume.
- NEW: Zen Timer Connect lets you log in with your Facebook account and get enhanced graphs showing your meditation activity over time. You can also see a real-time feed of all Zen Timer meditation activity as well as your friends Zen Timer activity.
- Presets allow you to save an unlimited number of configurations and assign names to them. If you have multiple meditation routines (such as Morning and Evening), this makes it easy to switch between them without any configuration changes.
- Set a background image from your own photo album. While the timer is running, your image is shown full screen. Optionally, the time display and controls can be hidden so that they are shown only when the image is tapped.
- Session Logging: Whenever a timer completes, the start time and duration are stored on the phone so you can review your Zen Timer usage. Your log data can also be exported via an email attachment and loaded into a spreadsheet for more sophisticated analysis.
- Statistics: Log data is condensed into useful statistics to help you monitor and evaluate your timed activities.
- Journal: You may enter notes about each session when the timer ends. Again, this can help you track your progress in the activity that you are timing. Your journal entries can be exported via an email attachment. Journal access may be password protected to ensure privacy.
- Pause and Resume your timer session.
- Optionally vibrate with or instead of bells.
- Have a basic meditation routine? You can set up the Zen Timer in seconds: Just pick your bell, the amount of time you want to meditate and hit Start.
- Have a complex meditation routine? Zen Timer can handle it! No other meditation timer is as powerful and flexible as Zen Timer.
- Join us on Facebook for a video demo, news, discussions and more:
http://facebook.com/zentimer
Previous Post: Dictionary.com
Next Post: Androidlet Weather Widget