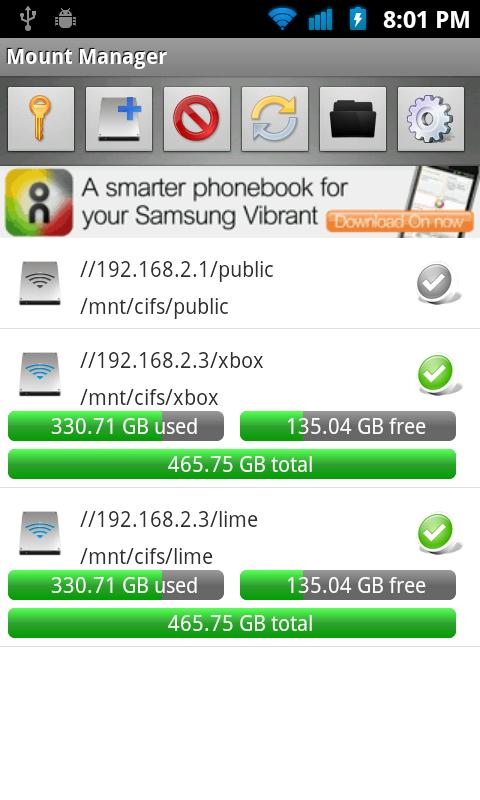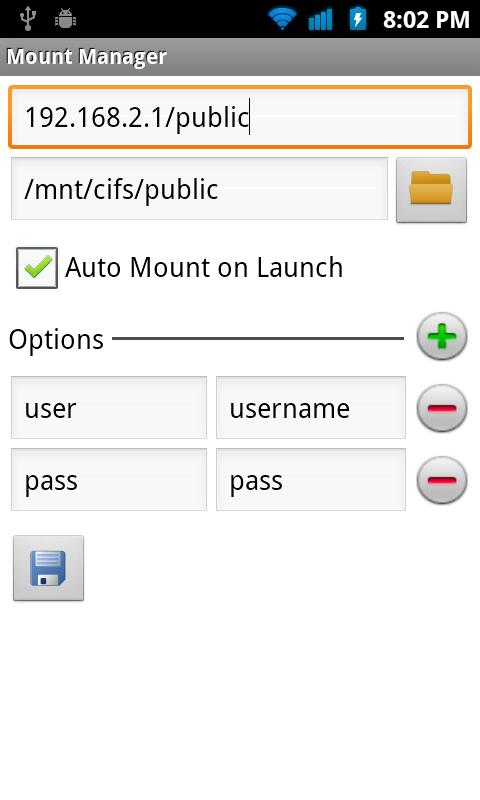 ♦♦ REQUIRES ROOT ♦♦
♦♦ YOU MUST HAVE EITHER A KERNEL THAT SUPPORTS CIFS OR THE MODULES TO LOAD TO ADD SUPPORT ♦♦
♦♦ BUSYBOX RECOMMENDED ♦♦
♦ License is available at a discounted price until the first 100 are sold. ♦
A simpler way to manage the remote shares (cifs/nfs) on your device. Mount and unmount the shares quickly.
Load multiple modules to support cifs and other file systems. View all mounts on your device.
Mount the shares to your devices file system then use an application like Astro File Manager, AndExplorer or ES Explorer to browse the share like it is right on your device.
Other tools DO NOT allow automatic mounting when connected to WiFi.
Other tools DO NOT allow automatic unmounting when disconnected from WiFi.
Other tools DO NOT have a simple interface to support multiple modules to be loaded.
Other tools DO NOT automatically load the modules when the device boots.
Other tools DO NOT have the ability to have locale / tasker plug-in to manage when and what shares should mount or unmount.
Other Tools DO NOT show how much space is used and free on the mount points.
Other Tools EXPECT you to know what all the possible options are for mounting a share and how to enter them.
♦ Licensed Features
♦♦ No Ads
♦♦ Locale / Tasker Plug-in
♦♦ Backup / Restore the share settings data to/from your sdcard
♦♦ Allows use of an ad blocking software
♦♦ If you use an adblocker, you will not be able to use this application unless you purchase the license key. This app is supported by the advertisements, blocking them removes this support. If you don't want to see the ads, purchase a license. ♦♦
Please email me if you have any issues so I can get them fixed and working on all devices.
App Specification
App Name:

Mount Manager

Rating:

3.25

Apk:

com.twimager.cifsmanager

Cost:

Free

Developer:

http://twimager.com

Market:

market://search?q=pname:com.twimager.cifsmanager